You'd have thought with Lewis being twelve, and the fact I've been doing the school run for eight long years, that I'd be a seasoned pro by now. It's funny how easily you forget things as the children grow, especially the bad bits, and those eight years since Lewis started school feel like a world away some days. I thought I was pretty clued up when it came to school, and pre-school, and yet it turns out, there's still so much to learn. Here's what we have discovered since September…
1. No matter how organised you think you are the night before, or how early you set your wake-up alarm, those last five minutes before you leave the house each morning will always result in running around like a maniac, hunting for shoes, hair clips, book bags and return forms, flinging together sandwiches, wrestling hair into bunches, screeching "WE'RE GOING TO BE LATE!!", on repeat.
2. The school run most likely got its name because of Mothers like me. Because, by the time the children have pain-stakingly put on their own shoes and coats, "No! Mine self do it!!", legged it back in for a last minute wee or to pick up a forgotten PE kit, we have to run it.
3. Having a conversation with your child about their day will make you feel like an MI5 detective. Every question will be answered with a choice of three replies, "Don't know!", "Can't remember!" and, "I've forgotten!". And then at bedtime, by some miracle, they suddenly remember every random bit of information about their day and can drag that 'Goodnight' out for another half hour at least.
4. You have to label EVERYTHING. This might seem like common sense to most people, and whilst I smugly labelled every last bit of Evas uniform, I never even considered labelling Megans. I thought with her being three, and the fact that pre-schoolers don't do PE, there was no chance of her taking her off her clothes, and why the hell would a child take off their shoes? But maybe the clue is in the first part. She is three. She takes off everything….and she doesn't care what goes back on! Thank God for these name labels from Stickerscape , that simply stick on and you're good to go, because by the time you've listened to your child's long winded account of their day at bedtime, you sure as Hell won't have the energy for sewing.
5. Non-iron uniforms? They're LYING!! Sure you can believe the label and bypass the ironing part, but then your child is going to look as though they have slept in their clothes which would actually solve the worry of point 1 and 2, and yet fooling the teacher into thinking you are a fully functional family is paramount during this first term!
6. Your child will come home every night more tired than you ever thought possible. You'll fight a constant battle of whether to give in and allow them to fall asleep over dinner, and be awake at 3am, or to force them to stay awake, with perfectly timed pokes, and face another few hours of crying. And you'll soon realise that 3am is by far the easiest option.
7. White board pens are the work of the devil. I'm considering billing the school for the untimely death of four polo shirts and a cardigan, a whole array of stain removers that don't work, plus the time wasted on Google looking for methods that actually do work.
8. Your washing machine won't know what's hit it. Remember the days when they could wear the same thing twice? This will never happen again! Every day there's something else, pen, paint, glue, mud, the remnants of their lunch. And the only reason I even know what Eva has had for lunch each day is because I see the remains of it down her cardigan. And that's another thing, everything is chicken. Chicken in sauce, chicken pasta, chicken shaped like a sausage…..whatever they've eaten, they'll always tell you it's chicken.
9. There are no good or bad days as far as a child is concerned, merely days when they get a sticker, and days when they don't. When you're stood in the playground, waiting with baited breath for your child to come out of the door, you can only hope that they will emerge with a sticker down their food splattered uniform, because God help you if they don't.
10. Weekends are suddenly way more precious. Before the girls started school, and pre-school, we were very much used to spending all of our time together, where as now we really try to make the most of the time that we do have as a family. And in between doing the ten loads of washing and working my way through the mountain of ironing, we get out and about as much as possible because while the week days seem to drag, weekends really do fly by way too fast.
What has been the biggest lesson you've learnt since your child started pre-school or primary?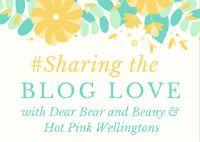 …