When we were approached to try Aquabeads, my very first thought was, Oh god, arts and crafts? More mess!! I spend enough of my time cleaning up after these four without adding to the load with scrubbing paint off the walls, picking play dough out of the carpet and scraping glue off the dining room table. But when I read the brief I discovered that actually, Aquabeads are very different to the crafts sets we have had previously.
"Aquabeads is a fun and safe arts & craft brand for children to enjoy hours of creative fun! The beads are uniquely made to stick together when sprayed with water. No heat, no mess! You can create based on the design template sheet, or free style and create your own original design."
No mess? Sounds too good to be true right?
The girls were keen to get the party started and so we began with the Aquabead Beginners Studio, a really lovely starter pack which contains eight hundred beads in twelve different colours, a water sprayer to set the beads, a bead pen, four templates with a variety of designs and the best part is that the case doubles up as a storage case to keep everything nice and tidy. I particularly liked that fact!
After a significant amount of time arguing over who got to go first, including an almighty scramble for the bead pen, we set to work and while Eva used the bead pen to place her beads, Megan used her fingers until she was finally allowed a turn and they swapped over. I think using their fingers was actually easier than the pen, although neither would admit it! I was worried initially that Megan would be a little too young for the Aquabeads as they do state they are suitable from four years old, but actually she was more than capable of creating her designs and under supervision I was more than happy for her to join in.
The girls took great care with their designs, their little faces screwed up in concentration, their tongues just poking out at the side of their mouths, and particularly liked the jewelled beads which was no big surprise with my little magpies.
It didn't take very long to complete the smaller designs and then came the part they had been looking forward to…spraying them. This was definitely the girls favourite part, although I think it's safe to say that it wasn't Harrys!!
Keen to keep the party going, we decided to try out one of the smaller packs we had been sent.
The smaller packs contain over four hundred beads in six different colours, four template sheets and one 3D layout tray and if you're not sure whether your child would enjoy Aquabeads then this is a great place to start.
At £4.99 they are the perfect gift for a children's birthday party. If your child is anything like mine they will be invited to at least one a week and I plan on stocking up in advance!
The true test of any activity for my girls is whether they are so engrossed in it that they forget to argue, and this really did keep them quiet the whole time. I have to confess to having a little try myself and it was actually quite therapeutic.
It was a little frustrating when the beads kept moving as the tray became fuller and yet we found that a slight spritz of water in the bottom of the tray meant that the beads stayed in place better and didn't move at all, even when Megan bashed the side of it just moments from being finished!
The lovely thing was seeing how the girls reacted to their designs when they were complete. Unlike a lot of crafty activities where their creations are cast to one side ready to put in the recycling bin cupboard to keep forever, the girls actually created a game using the Aquabead creations, making little voices for the animals and using their imaginations to make sure that the fun didn't finish with the end of the activity.
From a parents point of view, aside from the bonus of no mess, Aquabeads are actually a really good way for children to develop their fine motor skills. Using pincer like movements to pick up each bead, or getting to grips with the bead pen, meant that the girls were learning as they played. Aquabeads also allowed them to use their imaginations, create their own designs and raise awareness of colours, size and shape. With Megan being hypermobile she can sometimes struggle with these fine motor skills and so for her, it was actually a really good exercise.
In that respect I think it's safe to say that Aquabeads got a huge thumbs up from me and the girls, and even Harry who, although I didn't allow him to play with the beads as he is still a little small, was rewarded for his patience with his very own creation courtesty of his big sisters.
If you'd like to have your very own Aquabeads party you can buy them by clicking on the link below and join us on social media with the hashtag #AquabeadsParty

I know exactly what will be on the top of my girls wish lists for Christmas this year and for once I won't be worrying about the mess!
For the purpose of this review we were gifted the above Aquabeads products. All view are 100% my own.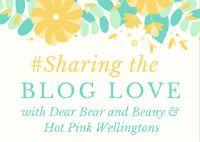 …