Three and a half years ago, when Megan came screaming into the world, from the first moment she was placed in my arms I instantly knew that she was different. And I couldn't put my finger on exactly why, or how, she was different, but as the months passed I felt it more strongly than ever.
Life with Megan was difficult from the offset, not only did I have a very poorly baby to care for, but I also had a one year old Eva, and a nine year old Lewis, who needed my time and attention equally. I have written many times before about how we spent the first few months of Megan's life in and out of the hospital, seeing one specialist after another, having test after test, facing countless possible diagnoses, and never really getting anywhere. But when she was just three months old and I fell pregnant with Harry, coping with Megan, another high risk pregnancy, and the prospect of three under three, was one of the hardest times in our lives no doubt.
I doubt I will ever find the words to explain just how difficult it was to see our baby in pain day in, day out, to hear doctors discussing her like we weren't even in the room, commenting on her appearance, pointing out all of the reasons why she wasn't as perfect as we had hoped, putting the fear of God into us and sending my anxiety levels through the roof.
"What's wrong with her?" I used to ask the doctor, when she screamed every second of every day, when she physically shook as though in pain, or projectile vomited yet another feed, when I sat in A&E in the early hours, lay on that Goddam camp bed beside her in hospital, and wondered what we had done to deserve all of this.
"What's wrong with her?" I used to ask Gaz, when he came home from work and she had done nothing but cry for eight hours solid, when I sobbed with exhaustion at three in the morning, drained, utterly sleep deprived, pregnant, and losing the will to live.
"What's wrong with her?" I asked Google, night after night reading up on poorly babies, when the medication she was on no longer seemed to work, when the private doctors, the prescription formula, the cranio-osteopath, the homeopath, the silent prayers and pleas of despair did nothing at all to help her.
And then out of nowhere, around the time of her first birthday, just as Harry was born, she suddenly turned a corner. A huge corner infact, so much so that over night she seemed different, healthier and happier.
We went months without a doctors visit, all of those long nights at the hospital feeling like a distant dream, and Ill be honest with you, for the first time in her life I was able to simply enjoy her rather than always worrying about her or trying to stay calm through the hysteria. And it turns out that, when she wasn't screaming quite so much, she was absolutely adorable.
And for a while, a good few months at least, life was very different. It was hard, admittedly, with three under three and a ten year old, but it was calmer, less frantic, less stressful. And so perhaps I took my eye off the ball, perhaps I thought that we had finally gotten over the hardest part, but it came as a huge surprise when, by the end of that second year, we were right back at square one. Only this time, if possible, it was even worse.
"What's wrong with her?" I used to ask my friends, when their children laughed and played nicely together, when they shared stories of fun filled days out, and our child, our Megatron, screamed herself hoarse, covered her ears with her hands, squeezed her eyes shut tight, unable to cope with other people, loud noises, any change in routine.
"What's wrong with her?" I used to ask the Health Visitor, when at her two year check I brought up the topic of her behaviour, the aggression and anger, the way she would hit, bite, kick and scratch me, how at times I worried about the safety of the other children, unable to leave them in the same room together for fear she would hurt them.
"What's wrong with her?" other parents used to ask me, watching in horror as she threw herself down on the floor in supermarkets, at playgroups, on the dirt path in the park, hitting herself in the face, her hands and feet flailing, screaming at the top of her voice, the most torturous of cries, the veins in her neck visibly bulging.
And I'll be honest with you, I was embarrassed. I would stand there, trying to coax her out of her rage, knowing full well that she was too far gone to reason with, juggling a baby on my hip, a toddler in my hand, feeling the glaring eyes of judgemental mothers on me, no doubt thinking, Why did she have so many children if she can't control them?
I became a nervous wreck, constantly trying to pre-empt her next melt-down, sheltering her from all of her triggers, finding it easier to just avoid the inevitable tantrums and simply stay at home. I lost count of the number of times I would have to pass up an invitation for  a playdate, leave social situations early, driving home with tears pouring down my cheeks, torn between anger, embarrassment and out-right sadness that our child was not who I had thought she would be.
Eventually, last year, having seen a paediatrician to rule out any medical cause for her behaviour, we were told by our GP to consider autism, that she would refer her to CAMHs for assessment and to "Hang on in there". And I'm ashamed to admit that I felt relieved that, after all of those months wondering what we were doing wrong, there might actually be a reason for her behaviour. And just a few weeks later, I can distinctly remember receiving the letter from CAMHS to say that they would see her but only in eighteen months time. And I remember breaking down at the kitchen table, resting my head on my hands and sobbing at how utterly difficult life was, how mentally drained I felt, how I would give just about anything for our daughter to be "normal".
"What's wrong with you?"  I had cried, as she had crept up beside me, placed her head against mine and just held me, both of us holding on for dear life, wondering if we would ever make it through.
And yet here we are, more than a year down the line, still hanging on, and still surviving. And more than that, I'm so proud to tell you that most of the time she's an absolute delight to be around. Admittedly there are still days when she cries from morning 'til night, when she lashes out at her siblings, launches toys, throws herself to the floor and screams blue murder if she doesn't get her own way. And admittedly she can be short tempered, unpredictable, overly emotional and hugely demanding, but most of the time, and pretty much all of the time at nursery, she is happy, she is loving, clever, talented and head-strong. She is intuitive, imaginative, inquisitive, hilariously funny and never happier than when she is centre stage, singing and dancing and making us laugh.
She is thriving academically, has the wisdom of a child far older than her years and is the most affectionate of all four of our children. She is the first to take my hand, reach out her arms for a cuddle, beg me to lay down beside her in bed each night and tell her just one more story. And above all else, she is the most fiercely protective, and doting, sister to Lewis, Eva and Harry.
I read the most beautiful quote this week, shared by a good friend of mine, who is the most admirable Mummy to two very special children, and it was one of those Eureka moments, where I  felt as though everything just clicked into place. It read,
"Motherhood is about raising and celebrating the child you have, not the child you thought you would have. It's about understanding that she is exactly the person she is supposed to be and that, if you're lucky, she just might be the teacher who turns you into the person you are supposed to be." – Joan Ryan.
And that just sums it up doesn't it? Being a Mummy, regardless of whether a child is 'difficult' or not, is the hardest job I have ever had to face, and sitting here now, with Megan gazing up at me with those big blue eyes of hers, telling me how much she loves me, that I am her best friend in the whole world, I know that I was right.
She is different.
But she is different in an infinite number of wonderful ways.
I no longer question, what is wrong with her? Because I know that the answer is absolutely nothing at all. And I wouldn't change her, not one bit of her, and nor would I change the person she has made me.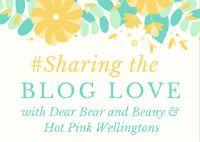 …