Day four, and the week is flying by in a flurry of rainbows. Our second collaboration comes from Hope and Rainbows, the most beautiful website selling a whole range of affordable, educational, and extremely stylish products.
Designer Kate Hope first established her business in 2013 with a view to bring a range of contemporary children's illustrations to the market. Each and every product in the range is made to order by Kate, including bespoke designs, and having coveted after just about every item on her website, it's safe to say that there is something on there for everyone.
The prints are absolutely beautiful and would make the perfect gift or finishing touch to any nursery or playroom. All prints are made to order and finished by hand and available in two sizes, either mounted or framed, and I'm sure you will agree they are pretty special. My absolute favourite has got to be the "R is for Rainbow", I am slightly gutted that none of my children have the initial "R", although every single letter is equally as lovely and "M for Mermaid" was a firm favourite with the girls.
We also love the little boxed set of Hope and Rainbow flash cards, which are not only beautiful, but educational too. With Eva starting school this year and phonics being such a huge part of learning to read and write, these cards would be perfect for learning to recognise letters and practice sounds.
The Hope and Rainbows bags look fantastic and while we all know that Harry loves a bag, Megan is equally keen to accessorise, and was desperate for a rainbow bag of her own. With a choice of colours (pink, red, navy or white), it came as no surprise when she chose pink and when given a choice of design, again no surprise that she chose a rainbow. We were very excited when the postman delivered our parcel and it was so beautifully wrapped, complete with an "R is for rainbow" card.
The bag itself was beautiful, bright and colourful, but also excellent quality. We've had similar bags that look lovely but the odds of it holding anything of any substance is zero to none. This was made from a lovely thick cotton, measuring 38cm by 43cm, with a substantial drawstring. As a parent it was reassuring to see that it can be machine washed at 40 degrees and ironed on the reverse.
We are really impressed with the bag, which Megan instantly filled with all of her favourite toys, and they would be equally lovely for school and a variety of sports. With a RRP of £12.50 (price correct at time of publishing), for a personalised gift I think they excellent value for money.
Kate has kindly offered my readers 10% off all orders placed between Thursday the 27th October and Sunday 6th November using the code RAINBOW week at the checkout. She has also given one of my lucky readers the chance to win their own personalised bag and a pack of alphabet flash cards. To enter simply follow the instructions below, the more ways you enter, the more chance you have to win. The winner will be notified by email on the 24th November.
Additionally, anyone who subscribes to my mailing list below will get THREE extra entries into the prize draw.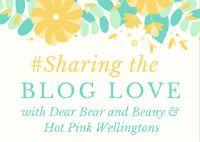 …